What to Look for in an OCD Therapist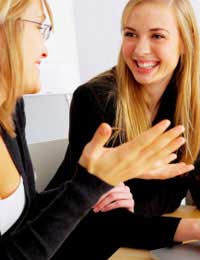 If you're receiving NHS treatment for OCD, you probably won't have much input into who your therapist is. If you can afford to go private, it's especially important to find a therapist that suits you as you're paying for the treatment. To get the most out of your OCD treatment, you need to feel comfortable with your therapist and have a good working relationship with him or her. Here are some of the key characteristics that a good OCD therapist will demonstrate.
Treatment styles
In your initial consultation, ask whether the treatment plan will be personalised so that it is unique to your individual obsessions and compulsions, or whether it is a one-size-fits-all plan that is intended to cover all eventualities. Generally speaking, a personalised treatment plan will be more effective as it is specifically tailored to your OCD symptoms.
Empathy
A good OCD therapist will have a good understanding of your symptoms and how they affect your everyday life. At the same time, you shouldn't feel as though you're being judged when you're discussing your symptoms and this is particularly important in relation to intrusive thoughts and images, which tend to be embarrassing and challenging to talk about in the first place. If you ever feel that you are being blamed for your OCD symptoms, start looking for a new therapist straight away as a good therapist will never imply this.
Some therapists will have a better level of empathy than others, but it will usually be apparent within the first few therapy sessions whether he or she has the necessary amount of understanding and compassion to help you get the most out of your treatment sessions.
Listening skills
In an effective treatment session, your therapist will listen to your thoughts and offer their perspective purely when it's necessary. If you feel like the interaction between yourself and your therapist isn't a two-way process, it can begin to feel as though you're being talked at or even talked down to and this can hinder the effectiveness of your therapy sessions. On the other hand, your therapist may not offer their perspective often enough and this can be equally frustrating.
Communication skills
Your therapist may be very knowledgeable about OCD, but is he or she able to clearly explain things to you in a manner that is accessible and easy to understand? If you frequently feel that a lot of what is being said goes straight over your head and isn't of any value to you, it may be time to find a different therapist who can answer your questions in a less complicated style.
Training and qualifications
For OCD psychotherapy treatments such as Cognitive Behavioural Therapy (CBT) and Exposure and Response Prevention (ERP)therapy, it can be hugely beneficial if your therapist has had training in cognitive therapy. If you're at all unsure of your therapist's credentials to treat you for OCD, ask about their experience and qualifications. In particular, look for therapists who been accredited by the British Association for Behavioural and Cognitive Psychotherapies (BABCP). Not all BABCP members are necessarily accredited. You can do a search on the BABCP website to find accredited CBT therapists.
If you feel that your relationship with your therapist isn't working, it's worth raising these concerns with him or her before you throw in the towel altogether, especially as you'll have to start from scratch with another therapist and this can be expensive for private therapy. If this doesn't make a difference, a change of therapist may well be the best option as a poor relationship can severely hinder your OCD treatment and ultimate recovery.
You might also like...