Helping Your Child With OCD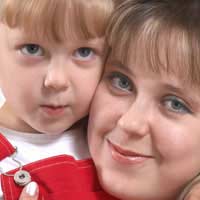 OCD symptoms often occur for the first time in childhood or early adolescence, and as a parent it is extremely distressing to see your child repeatedly performing compulsive rituals to help them relieve anxiety.
Read up on OCD
Finding out as much as you can about OCD is one of the best ways to help your child overcome his or her OCD symptoms. Many children with OCD think that their obsessions and compulsions are a sign that they're going mad or are abnormal due to the fact that they have no real understanding of the condition. If you can arm yourself with lots of information about OCD, you can help your child to have a much better understanding of their symptoms and why they are happening, and this can make the condition a little less scary.
Show compassion
Some parents mistakenly assume that ordering their child to stop performing OCD rituals will break the vicious cycle that most OCD sufferers find themselves in but in reality, it won't work and can do more harm than good. If your child is suffering from OCD, he or she will be unable to stop themselves from performing their chosen compulsive rituals unless they receive treatment such as Cognitive Behavioural Therapy (CBT) or Exposure Response Treatment (ERT) to help them change the way they think. Without this, commands and orders will do little good and can increase your child's anxiety if they are reprimanded or punished for not being able to put a stop to the compulsive rituals.
Don't participate in rituals
While it's important to show your child compassion, this shouldn't extend to taking part in your child's rituals. It may feel as though this will be beneficial to your child but this prevents him or her from making progress in overcoming OCD. If you've previously participated in your child's rituals, it's important to stop doing this so that he or she has a better chance to make progress.
Inform others
OCD can have a big impact on your child's performance at school in both academic and social terms. For example, he or she may fall behind at school or compromise their friendships because they are spending so long performing their compulsive rituals. Informing your child's teachers that this is because of OCD can help them to better understand the situation but you may have to inform them about OCD and its effects on everyday life if they don't know much about the condition.
Explaining Treatment
Receiving therapy for OCD or being prescribed anti-OCD medication are the best ways to tackle OCD, but how do you explain to your child that this needs to happen? Stress the role that treatment will play in your child's recovery. He or she will have a strong suspicion that their OCD symptoms aren't 'normal' and will want to get better so this explanation will often be accepted in a positive light. Let your child know that there is nothing wrong with needing treatment and that it isn't a sign of weakness or craziness. Once your child understands this, he or she should be more receptive to receiving treatment.
You might also like...