How Alcohol Affects OCD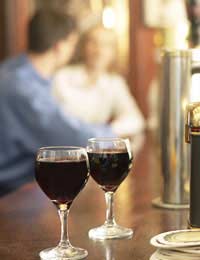 Although drinking alcohol is a routine part of everyday life for many people, it can cause problems for OCD sufferers. OCD symptoms can feel less intense after drinking alcohol, but will usually return with a vengeance afterwards. In the vast majority of cases, relief from OCD symptoms is merely a temporary reprieve that becomes far worse than the original problems that you were trying to blank out.
How Can Drinking Alcohol Affect OCD Symptoms?
Drinking alcohol can help OCD symptoms to seem more manageable in the short term, but they can become much worse a day later. Some OCD sufferers find that their intrusive thoughts, images and impulses become extremely frightening and distressing after drinking alcohol.
OCD sufferers tend to crave control and order, and both of these are often much reduced after alcohol has been consumed. If anything shameful happens while "under the influence", it can cause OCD sufferers a lot of distress. To counteract their feelings of shame and embarrassment, compulsive rituals are often stepped up in a bid to purge them.
Becoming Dependent on Alcohol
There is also the possibility that alcohol may be depended upon as a way of relieving OCD symptoms, even if this is only temporary. Because of this, drinking problems may occur, despite the "hangover" effects of alcohol that can make OCD symptoms worse during the next day.
If you drink alcohol on a regular basis, your tolerance levels can change. This usually means that you will have to drink more alcohol to have the same effect. In this way, it is easy to become addicted to alcohol, particularly if it allows you to blot out your OCD symptoms and the distress and anxiety that accompanies OCD in general. The fact that this is only a temporary distraction tends to be irrelevant to those who become dependent on alcohol, and they will usually be able to ignore the negative effects of drinking alcohol (such as hangover).
Alcohol and OCD Medication
As with many types of medication, alcohol can have an adverse affect on OCD medication. If you are taking OCD medication, you should read the accompanying leaflet thoroughly before drinking alcohol, as it can stop the medication from working properly. As you might expect, this can make OCD symptoms worse. It may also cause other complications, such as unpleasant side effects.
This can be particularly important for OCD sufferers who are taking anti-obsessional medication. Alcohol can cause intrusive obsessions to become more extreme than they would normally be, as well as making the medication less effective in the first place. For these reasons, mixing alcohol and OCD medication can have scary effects the following day.
The effects of alcohol can have a negative effect on OCD symptoms. While it may give some short term relief from OCD symptoms, the after effects of alcohol can make them far worse. If alcohol becomes depended upon too heavily as a way of reducing anxiety and distress, this result in drinking problems in addition to the OCD.
Alcohol often does not mix well with OCD medication, and can make it less effective. Because of this, you should read the leaflet carefully. Some types of medication will advise you to avoid alcohol while taking the medication due to possible side effects or a general lack of effectiveness if combined with alcohol.
You might also like...
Hi I am convinced that I'm ocd and I'm a drinker but what I want to know is, has anyone suffering ocd got so drunk that they got on a spiral of joking about their ocd which is like a fear of raping people etc I have and I've destroyed my life because now people think I'm a rapist In the moment I was at the point where I was going to kill myself so I didn't really care and now people have completely disowned me Fml
River
- 22-Apr-17 @ 12:29 PM
@AJ ! Your msg makes so much sense. I was just thinking tonight after sooo long of being addicted to alcohol that maybe i just feel compelled to drink because of OCD. How does a gp know this or suggest this is the problem ! I complain about my drinking habits and I actually have no willpower to not drink! ?? I'm also epileptic so everything is really not working well together. I really need to figure out who actually has a clue about this and who can actually help me! Suffering in silence here and I'm a very happy outgoing person on the whole! Any advice on who I could contact ? I'm seeing a new neurologist this week for my epileptic medication , maybe he will be able to help or advise! Cos all this medicine seems rediculous and I'm sure the whole concoction just makes me a tired person.
BronMeg
- 30-Jan-17 @ 11:33 PM
Has anyone had obsessive thoughts about current spouse and what they did with prior girl / boyfriend ?I dated my wife for years before she was old enough to marry...and the entire she was dating others along with me.Drives me crazy.
Kickster
- 14-Dec-16 @ 6:07 PM
My OCD is certainly starting to take over my life and relatively newly diagnosed (within the year) having been clinically depressed since my teens. I, like many others, have found drinking to help massively in the short term. Just enough to give me a hangover (say, 1 bottle of red), and I'll feel great that evening, even feel normal the next day when I'm hungover. Then the following day is crippling and I can't even force myself out of bed for fear of what I'll make myself spend the day doing. That day and a half of normality, dispite a hangover, are bliss. I'm fully aware of the negative effects it will have in the long term, but until i find something else that helps it'll be at least a weekly pattern for me.
Amber
- 9-Jul-16 @ 4:34 PM
We drink because, for that short period of time, the obsessions stop. I can understand completely why ocd patients drink. I did for 20 years. While I haven't quit drinking entirely I have cut down by more than half. I have got to say, though, I miss those tranquil moments.B
Willie
- 3-Apr-16 @ 10:24 PM
Jaggy, TryMagnesium vitamine supplements, for some people they might work. You can probably find them at your local drug store. Sincerely, John
Johnny
- 23-Mar-16 @ 10:11 PM
I know this may catch a lot of heat, but I feel like this story needs to be heard. I thought I was an addict for over a decade. I went to rehab, and I was "addicted" to pills, weed, and alcohol. Everyone told me I was using these substances as vices, and I needed to drop them and I was a true addict and come to terms with it, learn to live it. Well, moving to my OCD, I was grossly misdiagnosed for a number of years. From manic depression with schizophrenic tendencies which resulted in psychotic meds (which of course didn't work, that's not an acurate diagnosis), to simple anxiety disorder and anxiety meds (which still didn't work, it exacerbated the issue). Finally, I was diagnosed with Obsessive Compulsive Disorder. The thing about this is: I never used substances to "escape." Or for their effects. It was because for, whatever reason, I compulsively HAD to continually use. It sounds like a scape goat, but, I know there are some of you out there thinking you are something you are not. If you stopped drinking today, would you be sick? No? It's your OCD. You are not an addict, you are having a compulsion. You need to break it. Don't subscribe to that other crap and plant yourself in that slot. It's your OCD working against you, the habit.
Hi, I have been suffering OCD for more than 8 years now. I started medication in 2008 or 09 i guess but only took it for 2-3 months.They were fludac and serenes tablets. Actually my Doctor told me that you've to take medicine for longer duration,may be 2 years o more...so i stopped taking it. I cant bear with medicines for so long...it gives me negative feeling that i am SICK. Now it has started reocuuring...i stay depressed all the time and even i have developed high BP because of too much anxiety. Can someone tell me, shall i go for medication again and if yes, what could be the lightestmedicines in this and also for short duration and what are the natural ways of over coming this. Many Thanks.
Jaggy
- 1-Mar-16 @ 9:54 AM
Very true. OCD is manageable for 90% of those who suffer from it. In fact, it is rare that someone acts out in OCD despair. Moreover, most OCD sufferers suffer quietly, and rarely need to check into a mental hospital. Drinking only intensifies the unwanted thoughts. The drinker may feel great, while they are drinking.This makes an OCD sufferer much more likely to become an alcoholic, because being drunk may be the one time in the whole day or week that they feel normal.But the next day bites like a snake. The thoughts come back, usually worse than they were before the drinkingsession. The OCD sufferer is then forced to deal with very intense, intrusive thoughts for a couple of days after the drinking session. This can be very scary, very intense, andexhausting. The best thing to do is to stay away from alcohol if you can. If you can't, then keep it to 3 or 4 drinks. In other words, don't drink it up with everyone else. You'll feel a lot better the next day.
Clay
- 17-Feb-16 @ 6:55 PM