Psychological Support for OCD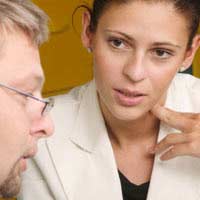 Many people with OCD are reluctant to seek treatment and support, and will often only do so when their OCD symptoms become too overwhelming to continue ignoring them. OCD is a source of shame and embarrassment for many OCD sufferers, which means that many years can pass before they will seek help and support. Psychological support for OCD symptoms is available, although it is not as prominent as some experts suggest that it should be.
Why Seek Psychological Support For OCD?
At some point, many OCD sufferers recognise that they need some help and support to deal with the disorder. Many forms of psychological support involve discussing your feelings and behaviour so that OCD sufferers can understand them better, and ultimately deal with them. Therapists can help to regain control of OCD, as well as offering advice as to how family members can provide additional support for OCD sufferers. Your GP should be the first port of call when seeking support and treatment for OCD, and he or she can refer you for psychological or psychiatric advice.
What Type of Psychological Support is Available For OCD?
Exposure Response Prevention
is one form of psychological support available for OCD sufferers. This is intended to encourage OCD sufferers to frequently involve themselves in situations that cause them anxiety so that they can find new ways of tackling the situation. Exposure Response Prevention is usually advised as a form of support after counselling. It is not uncommon for patients to feel more anxiety in the short term, but this will decrease.
Many OCD sufferers find Exposure Response Prevention to be an extremely useful form of support and treatment for OCD, as it can enable them to face up to the anxieties that fuel their OCD obsessions and compulsions without their fears coming true if they do not perform their rituals. However, it can be a challenging form of support for OCD, as many sufferers find it difficult to repeatedly revisit situations that cause them distress and anxiety without falling back on compulsive rituals to help them cope. However, those who persist with it usually find it to be an effective support and treatment for OCD as it disproves the fears that OCD sufferers tend to have if they do not perform their compulsive rituals.
Cognitive Behaviour Therapy is a form of treatment for OCD that involves attempting to alter the mindset of OCD sufferers. Cognitive Behaviour Therapy is often successful in treating young people with OCD, as it can help OCD sufferers to tune in to feelings, emotions, attitudes and behaviour. This is often something that young people struggle with, regardless of whether they suffer from OCD.
There is psychological support for OCD symptoms, including Cognitive Behaviour Therapy, and Exposure Response Prevention. Psychological support for OCD aims to help OCD sufferers overcome their obsessions and compulsions. For example, Exposure Response Prevention encourages OCD sufferers to repeatedly enter into situations that cause them anxiety (and may trigger OCD symptoms), while Cognitive Behaviour Therapy shows OCD sufferers that their intense fears as to what may happen if they fail to perform their compulsive rituals will not happen.
You might also like...