Quiz: Do You Have Pure 'O' OCD?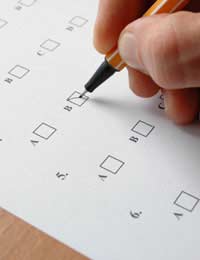 Pure Obsessional OCD (otherwise known as Pure 'O' OCD) is different to traditional OCD as the physical compulsions that make up a large part of OCD are not present. It is easy to get confused between the two types of OCD as there is a certain amount of overlap, but sufferers of Pure 'O' OCD will display slightly different symptoms and characteristics. Take our quiz to see if your OCD symptoms are indicative of Pure 'O' OCD.
1. Do you engage in physical compulsions such as repeatedly touching objects?
A. Yes
B. No
2. Are you experiencing OCD symptoms that are purely in your mind, such as obsessions that create mental anguish, followed by compulsions that are intended to relieve this?
A. Yes
B. No
3. Are you experiencing distressing and intrusive blasphemous and/or inappropriate sexual thoughts that you cannot shake from your mind?
A. Yes
B. No
4. Have you ever experienced thoughts about harming your family, which becomes an obsession that you cannot get out of your mind?
A. Yes
B. No
5. If you answered "yes" to either or both of the last two questions, do these intrusive thoughts or images cause you a significant amount of distress (as opposed to you being able to put them out of your mind and move on from them fairly easily)?
A. Yes
B. No
Verdict
Give yourself an overall score according to your answers, and read on to see the verdict.
1. A = 0, B= 1
2. A = 1, B= 0
3. A = 1, B= 0
4. A = 1, B= 0
5. A = 1, B= 0
0-2: Based on your answers, it seems unlikely that you are suffering from Pure 'O' OCD as your symptoms do not match the typical characteristics of this type of OCD. You may be suffering from traditional OCD that involves mental compulsions and obsessions to a greater extent than physical obsessions and compulsions, but your answers do not suggest that your OCD is purely a mental thing – and this is the basis of Pure 'O' OCD.
3-4: Your answers indicate that you could be suffering from Pure 'O' OCD. Based on the fact that only some of your symptoms are indicative of this type of OCD, it is more likely that you are suffering from traditional OCD (which often involves both physical and mental obsessions and compulsions, whereas Pure 'O' OCD is purely in the mind). However, if you are experiencing distressing mental obsessions, compulsions or intrusions, it is best to seek professional help and support.
5: Your answers are a strong indication that you are suffering from Pure 'O' OCD. While the symptoms of Pure 'O' OCD are highly distressing, it is important to realise that the vast majority of sufferers never act on the intrusive thoughts (known as "spikes") that can repeatedly enter the mind and become obsessions. Despite this, your symptoms are obviously causing you a lot of anxiety and stress, and it is worth seeking help and support from a mental health professional to help you regain control of your mind.
You might also like...
I suffer from pure OCD yet I only scored 0-2 There is so much more to OCD than even Doctor's seem to realise!
Tish
- 30-Jun-14 @ 11:35 AM
50% of people with ocd have an undiagnosed infection the rest may be possesed spirtually both and they have'tlearned to deal with messages from the spirit world. As scizophrenia is another part or symptom of spiritual problems. Psychiatry in modern times is too bussy in denying the spirit world to know about it is part of the illness. Yet Freud and other psychatrists knew all about it. Yet we allow science to make up stories. We have a soul.
manwithnoname
- 27-Nov-12 @ 5:39 AM
my psycologist has just told me i have ocd but offered no help, doctors and cpns have been unable to put a reason to what i do, no matter what im doing i have a thing about sayingthe words et et and tet tet in my head. i have to say the words to a tune, if im listening to music i will use these words to that tune, the only time im not saying it is if im talking, if someone is talking to me i still have the words going round in my head, on an 8 hour drive last week the whole journey was spent saying it over and over to different tunes, it sounds crazy but it is really overtaking my thoughts, doctor asked what would happen if i didnt say it but i couldnt answer that because it is just constantly there, no matter what time or how many times i wake during the night it is straight there, please give me some advice about this,
micky
- 12-Sep-12 @ 11:33 PM
In the verdict section is number 1 wrong? As I thought repeatedly touching objects was a symptom of OCD, yet you get a point for saying No to that question.
Jac3214
- 7-Jul-12 @ 3:22 PM