Obsessive Tidiness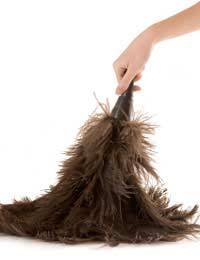 Clinical tidiness is one of the common OCD symptoms. For many OCD sufferers, this is something of an obsession and is far more extreme than a general desire to be tidy. It may exist alongside similar OCD symptoms, such as an obsession with order and symmetry. This article discusses obsessive tidiness as a symptom of OCD.
What Does Obsessive Tidiness Involve?
This OCD obsession tends to revolve around the need for objects to be placed in a certain way. This can involve repeatedly straightening pictures, arranging books in a specific order and making sure that objects are arranged in a specific manner. David Beckham is an example of a celebrity who has publicly discussed his OCD. One of his prominent OCD obsessions and compulsions relates to a desire for objects to be ordered in a specific manner. For example, he will only allow three cans to be stored in the fridge at any one time, and any additional cans must be put in a cupboard instead. The cans must also be arranged so that all of the labels face in a certain direction.
Obsessive tidiness and ordering can be a compulsion as well as an obsession, as many people will spend lots of time ensuring that objects are arranged exactly as they see fit. In addition to this, they may also spend a lot of time checking that objects are still in the correct place and order.
How Can Obsessive Tidiness Affect Everyday Life?
Obsessive tidiness can be very time-consuming. Compulsive rituals associated with obsessive tidiness can take up a considerable amount of time. If a picture is not hanging straight, or an object has been moved slightly out of place, this must be rectified before anything else can be done. Because of this, it can create a lot of procrastination.
Obsessive tidiness can have a detrimental effect on family relationships. This OCD obsession and compulsion requires family members, partners (and any other people living in the same house) to be understanding and do their best to make sure that objects are not deliberately left out of place. If this is not the case, arguments can easily erupt. At the same time though, experts suggest that other members of the household should not "support" OCD sufferers by engaging in the same obsessions and compulsions, as this can make them more intense.
Treatment for Obsessive Tidiness and Ordering
Cognitive Behavioural Therapy
is thought to be the most effective form of treatment for OCD sufferers with obsessive tidiness and ordering compulsions. This form of treatment aims to change the mental patterns that cause OCD sufferers to engage in compulsive rituals and obsessions.
Linked to this is Exposure Response Prevention Therapy, which for obsessive tidiness and ordering can involve not being allowed to tidy up or order objects or perform compulsive rituals related to this for a set period of time. The intended end result is for the obsessions and compulsions to be phased out as it becomes obvious to the OCD sufferer that they do not need to focus on them.
An obsession with tidiness is one of the symptoms of OCD. It is often accompanied by an obsession with cleanliness, symmetry and order, although this is not always the case. While many people who do not suffer from OCD may have a desire to keep things tidy, obsessive tidiness goes far beyond this.
You might also like...