Quiz: Is Your Child Suffering from OCD?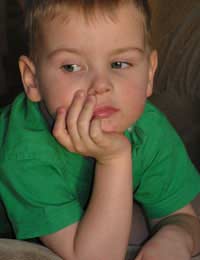 Obsessive Compulsive Disorder (OCD) is more prevalent amongst children and teenagers than many people realise. It is often thought that most OCD sufferers develop their symptoms after hitting adolescent, but this is not always the case. Many adult OCD sufferers first experience their symptoms in childhood.
Compared to more commonly discussed conditions that affect youngsters (such as Attention Deficit Disorder), OCD is thought to be at least as common – if not more so. However, because it gets less attention than other conditions, it is often misdiagnosed as a related disorder, or dismissed altogether. Take our quiz to see if your child's symptoms are characteristic of OCD.
1. Does your child devote a significant amount of time to tasks such as cleaning and tidying?
A) Yes
B) No
2. Does your child seem overly obsessed with germs and the possibility of being contaminated?
A) Yes
B) No
3. Does your child repeatedly feel the need to wash his or her hands, even when they are not dirty?
A) Yes
B) No
4. Are your child's mental and/or physical compulsions and rituals accompanied by other psychological issues (such as panic attacks, general anxiety or social phobia) or disruptive behaviour (such as Attention Deficit Disorder)?
A) Yes
B) No
5. If your child religiously completes rituals in the morning and evening, do these cause him or her a considerable amount of distress and anxiety (especially if they are deemed to have been completed "wrongly")?
A) Yes
B) No
6. Do your child's obsessions and/or compulsions/rituals get in the way of their everyday life?
A) Yes
B) No
Answers
If you answered A award one point. If you answered B don't aware any points. (A=1, B=0)
Verdict
2 or less: It seems unlikely that your child has OCD based on your answers. If your child has just one or two symptoms that could indicate OCD, it is likely that his or her actions are the result of stress. As OCD often develops out of stress, it is worth keeping a close eye in case OCD symptoms develop later on.
3 - 5: There is the distinct possibility that your child is suffering from OCD as several of their characteristics are in line with the condition. Presumably you took this quiz because you already suspected that your child may be suffering from OCD, so you might want to take your child to see his or her GP for a second opinion.
6: It seems very likely that your child may be suffering from OCD as the majority of their characteristics point to this. If his or her symptoms are causing a lot of distress, arranging an appointment with your GP is probably the best course of action. Although he or she may not be an expert on mental health issues, they can refer your child on to mental health professionals who can offer treatment and support. As well as treating the OCD symptoms themselves, this will also deal with the root causes.
You might also like...
I am Emily Reid who is suffering from OCD but my kind of OCD is where I want every think to be in place, and I want things to be in its place and nothing hanging around however my mum, Angela Reid is very untidy and she blames me for being a tidy person I think I need help please can someone give me a tip oh and also my mum leaves every think dumped in the middle of the couch or on her bed and she leaves every think in the car however my dad is untidy when he wants too be. Any tips would be lovely thank you!!!